Arcadia Rug Spa are specialist rug cleaners covering the Liverpool area.
Specialist Rug Cleaning Liverpool
Owners of Arcadia Rug Spa, Derek and Sian were both born and have lived their whole lives in Cheshire. They set up their highly sought after dedicated rug cleaning business in 2016 after years of being in the carpet cleaning industry. Our customers who we had serviced from all over Cheshire and the NorthWest for years kept asking if we could clean their rugs to the same high standard as their carpets. Derek, being vastly experienced and knowledgeable, knew that a carpet cleaning machine (no matter how good the machine) can not clean a rug properly. Plus rugs can come with all sorts of unexpected issues if cleaned in the home.
After thorough and extensive research, training and acquiring of specialist rug cleaning equipment from all over the world, we opened our dedicated rug cleaning business in Northwich, Cheshire. We have such a passion for rug cleaning and restoration that we decided to only clean and restore rugs and closed our carpet cleaning business shortly after, meaning that we are the only Specialist dedicated rug cleaning company in the whole of the NorthWest, who solely clean and repair rugs. All other companies that clean rugs, do so as an add on to their main business of either carpet cleaning or rug selling.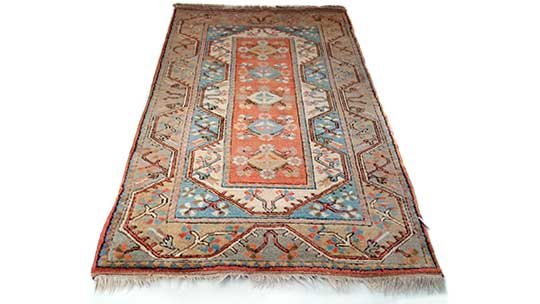 A Rug Cleaning Service that is highly sought after, Trusted & Reliable
We are a family run business who specialise in just rug cleaning and rug restoration. We have over 30 combined years experience in the rug cleaning industry and are proud of our dedication to expert care and knowledge of all types of rugs.
To find out how we can bring a new life back to your precious rugs, give us a call today on 01606 882712 or fill in the form and we'll give you a quotation based on your needs.
Liverpool Rug Cleaning Experts
We offer our rug cleaning service to all customers in and around the Liverpool area, Most customers travel over to us to drop their rug(s) off for cleaning with us, but we do offer a collect and return service to customers in the Liverpool area for extra large rugs or multiple rugs. Our collect and return service may not be cost effective for a single small rug, but some of our customers from Liverpool use a courier service to send a rug to us for cleaning
Being close to Liverpool our rug cleaning service can be accessed by customers from Liverpool and even by customers near Liverpool, such as Manchester, Warrington, Runcorn, Widness and Ellesmere Port. Many customers travel over to us, some even travel from all across the country, to use our specialist rug cleaning and restoration service when other companies haven't been able to help and recommended us as the 'go to' place for specialist rug cleaning services.
So what makes us the most sought after Rug Cleaning specialists in the Northwest?
We

ONLY

clean and repair rugs; no other services offered.

Dedicated rug cleaning and repair workshop.

We are open Monday to Friday 9am – 5pm no need to make an appointment.

We are always onsite, not off cleaning carpets or selling rugs.

It's all we do, we clean all types of rugs and fibres; including silk and viscose.

Local carpet cleaners trust us to clean their customers' rugs for them.

Hundreds of satisfied customers.

Extensively trained and 30 years of combined experience in the rug cleaning industry.

Gold Star ⭐ Members of Woolsafe.
Members of ARCS (Association of Rug Care Specailists)

Easy to get to from Liverpool and we have customer parking.

All repairs and restoration completed by us and not outsourced.
With an extremely thorough cleaning process for rug cleaning, We've invested in the best state of the art equipment from around the world. Both Derek and Sian have given lots of time and dedication to intensive training to extend their knowledge of rugs, cleaning and restoration on a regular basis.
Our services are suitable for all types of rugs Including; Caucasian, Pakistani and Tibetan Carpets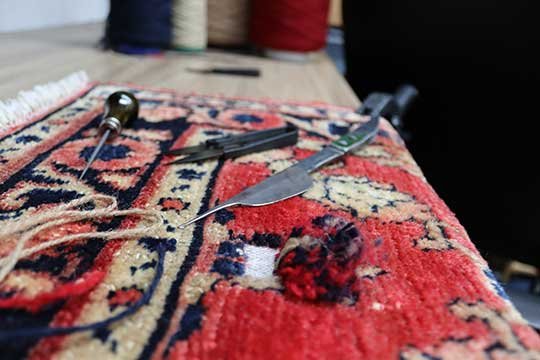 Rug Repairs and Restoration
Our rug repairs and restoration service appeals to everyone from loss adjusters, fire and flood companies, to any one who has damage to their precious rug, Whether from it's from a fire or pet damage, age, mould or general wear. Arcadia have the knowledge, dedication and equipment to restore even the worst damage. We have brought many sentimental, precious rugs back to life and avoided being sent to landfill.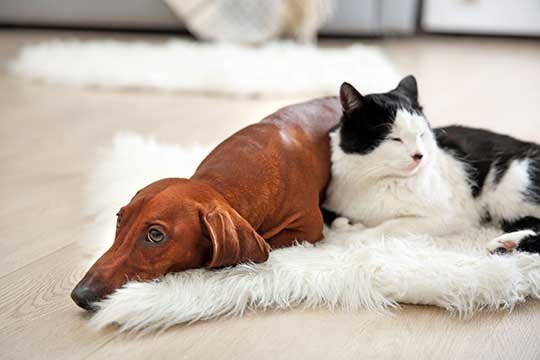 Pet stains and Odour Treatments
We are quite often told by our customers that they would like their rug cleaning because their pet spends most of their time sleeping on it. In most cases we are also asked to treat Pet accidents and odours, there are plenty of suitable treatments to completely eradicate the odours. More importantly we don't use over powering fragrances to mask the odour. Our process and treatments leave your area rug odour free and safe for your pets to enjoy once again.