UK's No1 Rug Cleaning and Rug Restoration Service
We are the UK's most sought after Rug Cleaning and Repair Experts, Trusted by thousands of Customers from all over the UK. With over 20 years experience in Rug Cleaning and Rug Repairs
A Complete Rug Cleaning and Rug Restoration Service.
We are a specialist company catering for your rug cleaning and rug repair needs. All our work is completed onsite by our rug care experts, Derek and Sian
With an extremely thorough cleaning process for rug cleaning, We've invested in the best state of the art equipment from around the world. Both Derek and Sian have given lots of time and dedication to intensive training to extend their knowledge of rugs, cleaning and restoration on a regular basis.
Our services are suitable for all types of rugs Including, Modern, Wool, Sheepskin Hides, Oriental and Persian Carpets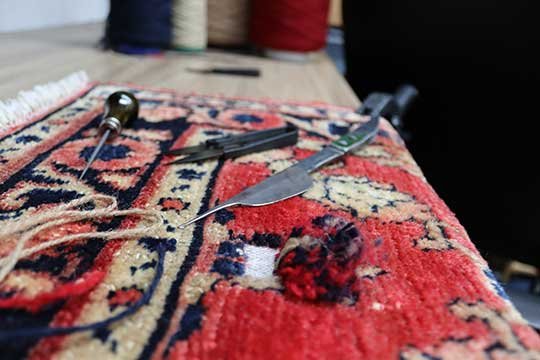 Rug Repairs and Restoration
Our rug repairs and restoration service appeals to everyone from loss adjusters, fire and flood companies, to any one who has damage to their precious rug, Whether from it's from a fire or pet damage, age, mould or general wear. Arcadia have the knowledge, dedication and equipment to restore even the worst damage. We have brought many sentimental, precious rugs back to life and avoided being sent to landfill.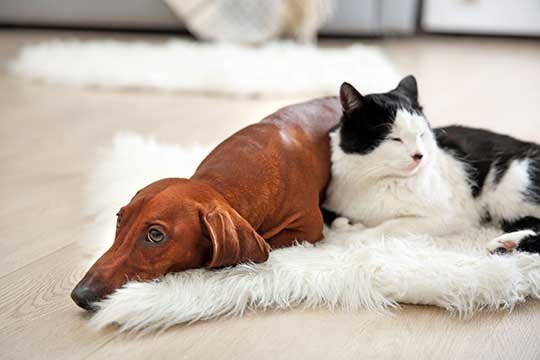 Pet stains and Odour Treatments
We are quite often told by our customers that they would like their rug cleaning because their pet spends most of their time sleeping on it. In most cases we are also asked to treat Pet accidents and odours, there are plenty of suitable treatments to completely eradicate the odours. More importantly we don't use over powering fragrances to mask the odour. Our process and treatments leave your area rug odour free and safe for your pets to enjoy once again.
A Rug Cleaning Service that is highly sought after, Trusted & Reliable
We are a family run business who specialise in just rug cleaning and rug restoration. We have over 30 combined years experience in the rug cleaning industry and are proud of our dedication to expert care and knowledge of all types of rugs.
To find out how we can bring a new life back to your precious rugs, give us a call today on 01606 882712 or fill in the form and we'll give you a quotation based on your needs.
Rug Cleaning and Rug Repairs
Here at Arcadia Rug Spa, we clean rugs very differently to what you may have seen before and therefore it is worth taking the time to watch our rug cleaning videos that explain exactly what it is we do.
You will see for yourself just how different our rug washing process is compared to the traditional carpet cleaning machines that you may have used, hired or even had a professional in to clean for you in the past but it just didn't do the job.
Rugs are very different to carpets in many ways from the way they are made to their construction and as a result the equipment and cleaning process is also very very different.
So what makes us the UK's Best Rug Cleaning Company?
We

ONLY

clean and repair rugs; no other services offered.

Dedicated rug cleaning and repair workshop.

We are open Monday to Friday 9am – 5pm no need to make an appointment.

We are always onsite, not off cleaning carpets or selling rugs.

It's all we do, we clean all types of rugs and fibres; including silk and viscose.

Carpet cleaners from across the UK use us to clean and repair their customers' rugs for them.

Lots of satisfied customers. See our reviews

Extensively trained and 30 years of combined experience in the industry.

Members of ARCS (Association of Rug Care Specialists)
Gold Star Members of Woolsafe.

Cover the whole of the UK, with easy access and customer parking.

All repairs and restoration completed by us and not outsourced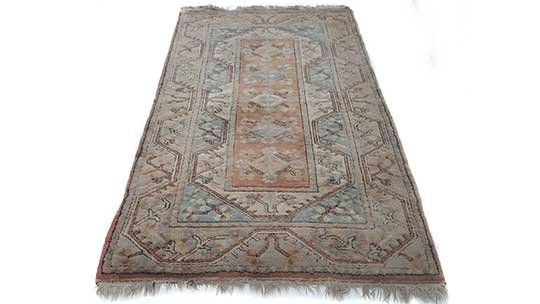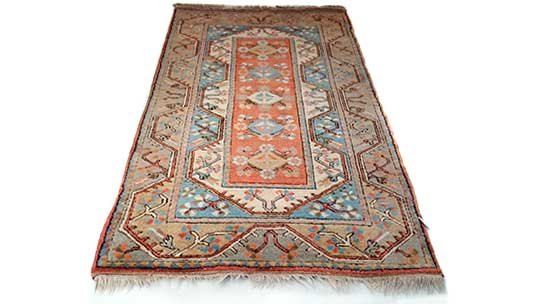 We Love All Things Rug Related!
We (Derek and Sian) for many years had provided our customers in Cheshire with a very high quality carpet cleaning service and were often asked if we could provide the same high quality service when cleaning their rugs. However, being honest, we told our customers the truth that carpet cleaning machines (no matter how good) just can't clean rugs to a high standard. So in 2016 we opened our dedicated rug cleaning business in Cheshire – Arcadia Rug Spa, where we use specialist rug cleaning equipment that can not be taken into your home.
We quickly fell in love with cleaning and restoring rugs and closed our carpet cleaning business to become the NorthWests only dedicated rug cleaning company. Unlike all other companies who may also have rug cleaning plants, they also continue to be carpet cleaners as their main business and clean rugs as an add on to their cleaning business.
Keeping it in the family - Arcadias Husband and Wife Team.
We are passionate about our business, and our repeat custom and large client base shows that we just love working with people. As a husband and wife team, we independently own and operate Arcadia Rug Spa, and as such, and as a result we put our life, soul and passion into the company. We research, understand and undertake expert rug cleaning and restoration of a wide range of rugs.
You can find out which types of rugs we clean and what areas we cover for our bespoke rug care service.